How to make the most of your time at SHOT Show
12/30/15
Shot Show is one of the largest tradeshows for professionals in the military, law enforcement and shooting/hunting industries. Each year Tactical Electronics sends our sales and marketing team to meet with customers and launch our latest products. With more than 1,600 exhibitors covering 630,000 feet of exhibit space, the weeklong event can seem overwhelming. We have compiled a list of tips and some of our favorite places to visit while in Vegas to make your trip go smoothly. If you have any questions about the Shot Show or Vegas please leave them in the comments section and we will be happy to find the answer for you! See you soon!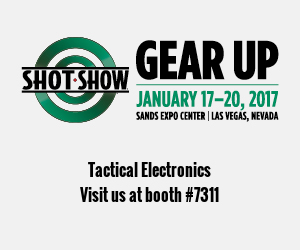 • Shot Show has designated areas for Law Enforcement and Military exhibitors. Visit those areas first as they are open 30 minutes earlier each day. You can find which ballrooms host Law Enforcement and Military vendors on this floorplan.
• Setup meeting times with vendors ahead of time to avoid waiting on a rep to be available. Tactical Electronics will have a designated meeting space right behind our large exhibit (7311) at space #7309. Setup a meeting with our Domestic or International Sales team here.
• If you are interested in meeting your favorite reality star from one of the shows on the Outdoor Channel network, find out where they will be here.
• Grabbing lunch or a coffee inside the convention center can be a nightmare and you can spend 30 minutes to an hour just waiting in line. As vendors we walk over to the Forum Food Court inside Sands Convention center or head to the Grand Canal Shoppes within the Venetian and have found that we get in and out easily. There is always a place to sit for a few minutes, which your feet will appreciate.
• Ask vendors to give you an onsite product demo. We bring our full line of products to the show and encourage you to test them out in our interactive product areas. You can also schedule a demo at your department/agency or request products be sent to you for a T&E after the show. Fill out this short form to request a demo.
• Collect information that is of interest to you or that might interest others in your department/agency. Catalogs are heavy, request literature and samples be mailed instead of having to carry them with you throughout the week.
• Develop a plan of which exhibitors you want to visit and then organize your list into two parts – ""must see"" and ""want to see"" companies.
• Plan the seminars/workshops you want to attend. Split sessions with your colleagues to maximize data gathering. SHOT Show offers several free training courses for Law enforcement throughout the week. See dates and times here.
This will be our 10th year at SHOT show and we have gotten to know Vegas fairly well. Here is a list of some of our favorite places:
• Restaurants: Carmine's Italian located in Caesars Palace is excellent. Family style portions and many choices. Can't go wrong with any selection.
• Casinos: We never have time to gamble, but hear your money will go farther at Casino Royale
• Bars/Nightlife: Carnaval Court, located right outside of Harrah's is a great outdoor bar and concert venue. Stop in for a drink and watch a free show.
• Did you Know: Carrying an open container of alcohol and consuming it publicly is legal in the city of Las Vegas and unincorporated Clark County, which includes the Strip.
• There are some exceptions: Drinking isn't allowed within 1,000 feet of a church, synagogue, public or private school, hospital, withdrawal management facility or homeless shelter.
We look forward to seeing all of you in Vegas in a few weeks! Make sure Exhibit #7311 is on your list to visit. We will be launching 2 new products, giving away hats/t-shirts, and have our full line of inspection cameras on display for you to demo.