Tactical Electronics has been a reliable resource in providing Government organizations from around the world with technology to address real-world challenges and has been a leading designer and manufacturer of equipment for the oil and gas industry, the agricultural community and various U.S. and foreign Military organizations for over 20 years.
NOMAD is a Remotely Operated Surface Vehicle (ROSV) that has been developed for the Oil Spill Recovery Institute designed for maritime oil spill detection, observation, and spill cleanup. Other NOMAD platforms could have numerous applications for remote sensor technologies, aerial surveillance capabilities and subsurface camera/sensor operations.
A current NOMAD project is configuring the ROSV with a universal sensor interface and articulating "robotic" arm mounted to the top deck. This Remotely Operated Surface Vessel Sensor Platform (ROSV-SP) provides operators the capability to deploy various sensors in a dangerous or unreachable environment from a safe distance, keeping the operator out of harm's way and allowing them to continuously work remotely.
Measurements:
36" high x 120" long x 48" wide
Hull:
The hull is a new Polytec material that is strong, lightweight, durable, and environmentally friendly. This is proving to be the new material used across most of the larger action sport vehicle manufacturers. Polytec is as rugged as fiberglass but not as rigid, so it resists cracks and fractures during extreme use. This material can stand up to very hot and cold environments.
Tanks:
10-gallon Herder, 10-gallon Gellgas, 10-gallon Gasoline that can also be used to feed Gellgas if needed. The USV can be configured for up to a 30-gallon fuel payload capacity.
Performance:
NOMAD has a top speed of 50MPH. The Rotax 900 engine is the most fuel-efficient Rotax 900 engine in its class using only 1.9 Gallons per hour at full throttle. This gives the NOMAD an almost 800-mile range at full speed, or a loiter time of 200 hours.
Auxiliary Sensor Inputs:
RJ45 ethernet network connections; 2 on the deck, 2 inside the hull, and 1 on the bimini top. Additional inputs such as USB, RS232, or RS485 can be installed. WiFi is available.
Weight:
450lbs dry. 900lbs loaded.
Propulsion:
The four-stroke gasoline Rotax 900 engine is widely used in the consumer watercraft and snow mobile industry. This Rotax 900 engine is performance proven across extreme use in all environments and dramatic temperature scales. Parts and service are easy to get almost anywhere because of this engine's commonality and wide use across several different platforms. This Rotax 900 engine also uses a closed loop cooling system which prevents ingress of seawater into the Rotax 900 engine, mitigating deposits and erosion.
Low Profile:
NOMAD has only 1 foot of draft and 2 feet of exposed hull above the waterline. This is beneficial for shallow water littoral and river operations as well as a low drag signature on the delivery helicopter when retracted between the landing skids.
Batteries:
2 100Ah Lithium Batteries available for accessory power and a standalone battery for engine start and operation. The lithium batteries act as a remote failsafe for operation should the engine battery fail. All batteries stay charged by an onboard generator that is powered by the motor. Power jacks 12 VDC are individually breaker protected up to 10 amps; 2 on the deck, 2 inside the hull, and 1 on the bimini top.
NOMAD has a network radio interface that allows for the utilization of multiple communications packages. The platform contains a data traffic handler system that monitors all available radio connections and divides up the network traffic among the various available networks.
System options include:
Multi-cell modem, providing access to several different global networks.
Starlink satellite modem.
Long Range Wi-Fi radio.
MANET radio interface.
Because of the network structured protocol, NOMAD can be operated remotely by multiple operators in different locations: onboard the deployment ship, onboard a helicopter, onboard a loitering fixed wing aircraft, or from a shoreside command post anywhere in the world over the Starlink satellite modem or aircraft repeater link. Each operator would have full access to telemetry, video, sensor data and ROSV-SP command and control systems.
Additionally, NOMAD's control system incorporates autopilot and GPS waypoint guidance making it fully capable of autonomous navigation between an initial deployment location and a target location when communications are limited.
NOMAD can be lifted, loaded, and deployed easily by hoist from land or sea vessels. One unique characteristic is the ability to be underslung from a deployment helicopter and transported to the target site. Not all helicopters have winch capabilities, so the NOMAD has a built-in winch so that normal underslung load operations can be utilized. The underslung load hook located underneath the deployment helicopter is used to attach the ROSV with 50' of cable between them on the launch pad. Once both are airborne the ROSV winches itself up the underbelly of the deployment helicopter with the help of a manned guideline to prevent unwanted spin. Bumpers at the top of the ROSV protect and hold it close and securely underneath the deployment helicopter. All three standard deployment helicopter emergency release mechanisms are still functional: electrical solenoid release, electro-mechanical hook release and mechanical hook release.

Once the deployment helicopter is at the target site, the USV is lowered by the winch to an acceptable height above the water and the deployment helicopter releases the winch hook. The USV reels in the slack cable and is now operational in the water.
There are various camera and sensor configurations for different applications to include:
Two underwater hull HD cameras.
One 360° upper deck HD camera.
Water and air temperature sensors.
Articulating Robotic Arm.
Air quality sensors.
Radar and sonar.
Drone HD camera.
Submersed capsule HD camera.
NOMAD has a complete Garmin navigation package with a full suite of 3 different sonar sensors, chart plotter with auto pilot and 18" radome radar antenna. The radome radar antenna can see out to 75 miles and the sonar depth is 200 feet. The sonar is capable of side view, down view and 3-D view. Real time radar and sonar images are viewable remotely. Weather, land mass and other maritime vessels are overlaid onto live radar images.
Deployable Onboard Aerial and Submersible Drones:
---
NOMAD houses a waterproof drone that can be deployed for aerial surveillance and a submersible capsule for deep water reconnaissance. These remote drones can support multiple sensor platforms. The drones are tethered to the NOMAD, using the tether for video downlink and electrical power. The tether slowly "spools out" the drone until desired altitude or depth is reached. The drone does not need heavy onboard batteries for operation, as its power is drawn from NOMAD through the tether, which reduces the overall drone weight. Navigation is also not necessary; the drone is simply pulled along behind the ROUSV like a parasail or an anchor off a boat, so no outside control is needed. The drones' only onboard logic is to maintain altitude or depth and a level attitude.
Possible Military Applications:
---
NOMAD's light weight, extended duration and precision control will result in improved effectiveness and efficiency in conducting long-range ISR operations in littoral and riverine environments. NOMAD can also be configured as a Navy Special Operations Forces delivery vehicle to transport SEALs or other special operators from a ship or aircraft to shore at high speeds, with advanced sensor capabilities and low profile radar signature.
Key capabilities:
Elevated, surface level, and submersed cameras and sensors.
Communications Relay.
Armed Escort.
Weapons Capability.
MCM Capability.
Swarm Capability.
Mine detection.
Remote equipment deployment, retrieval, or destruction.
NOMAD Gallery:
---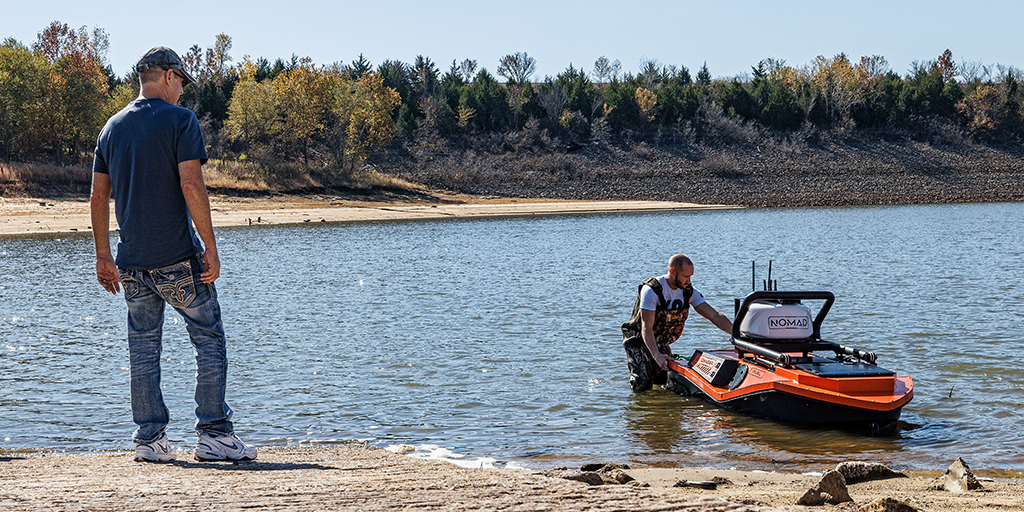 VIDEO: NOMAD Testing at Poker Flat Research Range, AK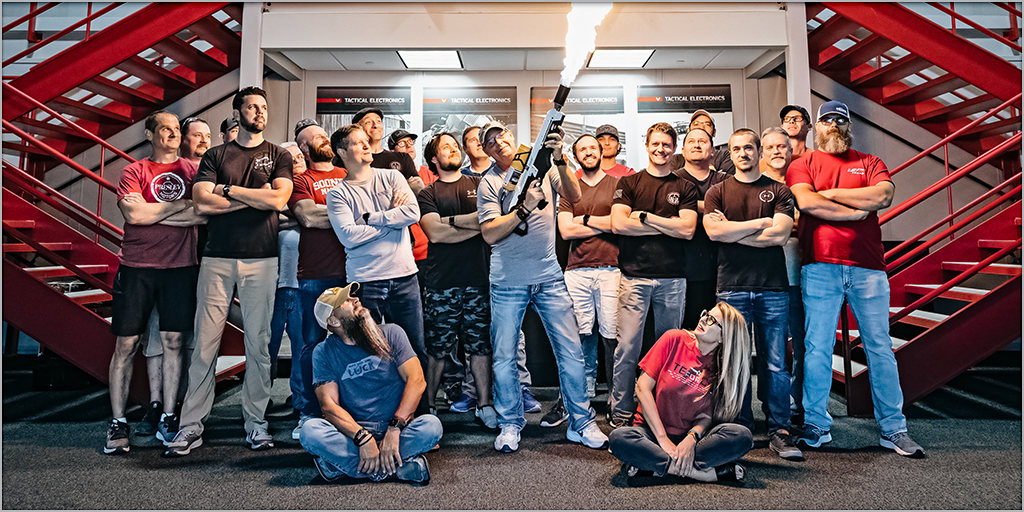 Tactical Electronics NOMAD selected as Semi-Finalist of Impact Canada Oil Spill Response Challenge
October 7, 2022, Halifax, Nova Scotia, Natural Resources Canada. All across Canada, healthy oceans and waterways provide prosperous local economies and resilient communities. Now more than ever, as the country transitions to a net-zero economy, the Government of Canada is focused on protecting diverse ecosystems, Canada's natural heritage, and the jobs that rely on them. That's why we are pursuing next-generation oil spill detection and recovery technologies to protect and preserve our coastlines and the natural environment from oil spills due to accidents or system malfunctions.
Today, the Honourable Jonathan Wilkinson, Minister of Natural Resources, announced the 10 semi-finalists of the Impact Canada Oil Spill Response Challenge, each receiving up to $300,000 in funding to develop rapidly deployable oil spill response solutions.
The Challenge will assess technologies through two streams: 1) detection, to improve data availability and accuracy to inform oil spill response measures; and, 2) recovery, to clean up oil spills in aquatic environments to the fullest extent possible and expedite environmental recovery.
The semi-finalists were selected by a committee of oil spill response experts, following the thorough review and evaluation of applications. They include:
Tactical Electronics in Calgary, Alberta, for a remotely operated surface vehicle capable of effectively detecting, characterizing, tracking and ultimately expediting the recovery of oil spills in Canada's diverse aquatic environments.
Read the full News Release here.