What's included in our new USAR Kit?
4/24/15
This week we are in Indianapolis for FDIC, the premier conference and exhibition for the fire industry. Our new Urban Search and Rescue kit is on display at booth #8135. This kit includes the camera systems that we deem the most valuable for technical search and tactical surveillance. All of our kits can be customized to include any combination of Tactical Electronics cameras and monitors. Each storm case is outfitted with custom cut foam to safely secure your equipment and provide easy access for quick deployment. Version 1 of our USAR kit includes the Pole Camera, Handheld Inspection Tool, Optic Fiberscope, Handheld and Wrist Mounted Monitors. We've listed special features of each system below.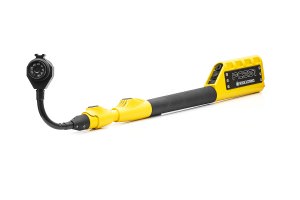 Pole Camera: The Pole Camera comes with a black and white and color camera head. The black and white camera is waterproof and includes 10 IR LEDs for low light situations or when rescue teams need pinpoint victims and devise an extraction plan. A thermal imaging camera is also available for this model. Three quick change extension poles can be snapped in for a total height of 7 feet. The pole camera transmits live video to any Tactical Electronics monitor and can record up to 16 hours of video to an SD card. A hard wire cable is available if you choose not to use the wireless feature.
Handheld Inspection Tool:  Easily bend the 9 inch flexible neck of the handheld inspection tool through a crack or small opening to gain visual access. the low light camera is highly portable, has the ability to record, and weighs less than a pound.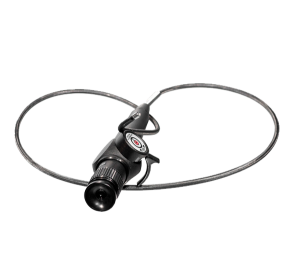 Optic Fiberscope: Available in 1 or 2 meter lengths, the Optic Fiberscope utilizes a two-way, 120 degree articulating probe. The non conductive tip makes the camera suitable for inspecting volatile liquids also.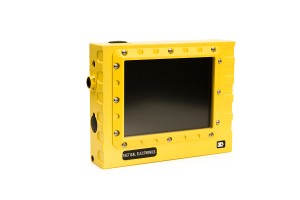 Wrist Mounted and Handheld Monitors: All of Tactical Electronics wireless camera systems transmit to any of our monitors. The wrist mounted monitor is easily mounted to your wrist with a Velcro strap and features a 3.5 inch screen. The handheld monitor has a 5.7 inch screen and features 3 brightness levels. This monitor also self orients when you flip it upside down. Both monitors can display real time video for up to 4 Tactical Electronics cameras. Simply press the channel button to cycle through to each camera view.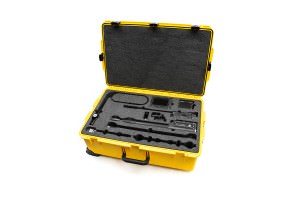 This kit is ideal for USAR teams who want advanced search tools and cameras for industrial search procedure. For more information about the kit click here or use the comments field for any questions.