Coffeyville Police Department receives Long Pole Camera and Monitor
5/6/15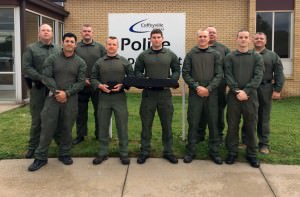 This morning we headed north to Coffeyville, Kansas to award Coffeyville Police Department's Special Operations Team with a free long pole camera and wrist mounted monitor. Coffeyville was the winner of our Lifetime Demo Program for March. Each quarter the Tactical Electronics Lifetime Demo Program awards one deserving department a slightly used camera system and monitor. Applicants are asked to write a 500-1000 word essay, describing the need for the equipment and how they would utilize the system to gain a better tactical advantage or put more distance between their team and the threat, using the technology.
Coffeyville's essay demonstrated a dire need for the Long Pole Camera and the technology it provides. The team included several examples of how the system could've been used in previous callouts. Coffeyville noted that during a situation where a suspect was barricaded in a second story building, the long pole camera would have allowed them to conduct proper reconnaissance of the building. Instead officers had to walk up a staircase and place themselves in exposed locations to conduct the search.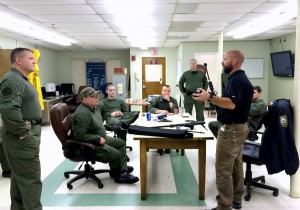 "Looking back over my 22 years in SWAT, I can recall over two dozen SWAT call out incidents where a long pole search system   
would have come in handy searching basements, attics, a suspicious device, and numerous structures," Sgt. Bromley, Coffeyville PD included.
It was great to meet the Coffeyville Special Operations team and we are confident that they will utilize the long pole camera to its full advantage. Our next Lifetime Demo Program will be announced in a few weeks and we encourage everyone to apply, even if you have applied in the past. Each time we offer a different piece of equipment we open entries for all teams to apply.
Congratulations Coffeyville!