FAQ's for the New HHIT Flex Inspection Camera
6/17/15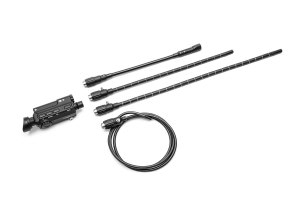 Today, we are very excited to announce our new inspection camera the HHIT Flex. What makes the HHIT Flex so unique is its ability to provide you with visual flexibility into inspection holes and confined spaces.
So, how is it different from the Handheld Inspection Tool? Previously, the HHIT included a 9 inch flexible neck that was permanently attached to the base unit, now the HHIT Flex provides the ability to interchange 5 different lengths of camera necks to the base. You could say this new system is the multi-tool of inspection cameras. Giving you the ability to quickly switch from one utility to the next, all from one kit. We also added UV LEDs in every flex and stay neck and the option to order necks with or without a single working channel.
Extending past its multitude of EOD applications the HHIT Flex can also be used for covert inspections, crime scene investigation, and drug interdiction purposes. Read through our Q&A and if you still have questions about the HHIT Flex leave us a comment or give us a call! We are eager to hear how you would incorporate the HHIT Flex into your inspections.
FAQ's
What is the HHIT Flex?
The HHIT Flex is the newest version of our Handheld Inspection Tool. We kept all of the great features that the Handheld Inspection Tool had and added even more. Now you have the ability to interchange different lengths of flexible camera necks to better suit your inspection. We also added snapshot image collection, allowing you to take still images while recording video.
What Camera Necks are available for the HHIT Flex?
The Flex and Stay necks are available in 10, 18, 24 and 36 inch lengths. The 18, 24 and 36 inch necks are available with or without a single working channel and feature 1 inch indicator markings. Each neck includes integrated UV LED. A 72 inch rope camera is also available for the HHIT Flex.
Will the new HHIT Flex work with my existing Tactical Electronics monitors?
Yes! The HHIT Flex will transmit to preexisting versions of Tactical Electronics monitors. You can view real-time video through the integrated eyepiece or on any monitor option.
Can I record video?
Yes. The HHIT Flex records up to 16 hours of video on a 16GB SD card.
How do I take snapshots?
To take a snapshot press the REC button until the word "Still" appears on the screen and then release. The Status LED will turn blue when capturing image and then return to its previous state.
Why would I need an additional light source if the camera necks have a UV light source built in?
In some inspections you might find that you need additional UV lighting. A mini or standard Light Source may be attached to the HHIT Flex to provide additional light.
Can the HHIT Flex be hard wired?
Yes, a 1/8 jack on the base unit will accept a hard-wire connection to a Handheld Monitor. Power on the HHIT Flex and the Handheld Monitor, insert the 1/8 inch plug into the HHIT Flex and the 1/4 inch plug into the Handheld Monitor and the wireless signal will be disabled.
What kind of batteries should I use?
Consistent with all of Tactical Electronics camera products, the HHIT Flex requires 3 CR123 batteries.
Which Kit is right for me?
Give us a call to discuss your mission set and operational objectives to determine the best kit for you.
Do I have to purchase a kit or can I purchase a la carte?
No, we do have 4 HHIT Flex kits already configured but you are welcome to purchase pieces individually as well.
How do you plan to use the HHIT Flex? Leave a comment indicating a situation where you could have used the HHIT Flex.